RollerCoaster Tycoon 3: Complete Edition is officieel aangekondigd voor de PC en de Switch. Op de Steam-pagina van de game lezen we meer details omtrent het spel. De game zal ook via de Epic Game Store aangeboden worden. De titel lanceert al op 24 september aanstaande voor 29,99 Euro. In RollerCoaster Tycoon 3 kun jij de manager spelen over een pretpark. Je kunt kiezen hoe duur de entreeprijzen zijn, welke attracties er zijn en zelfs je eigen achtbanen bouwen. De franchise is in het verleden ongekend populair geweest.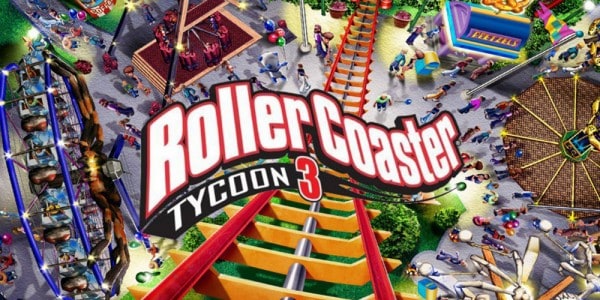 Manage Like a Tycoon and Make Your Way to the Top – Control park finances, shops, services and staff to succeed in dozens of scenarios. Become a true tycoon and embark on your promising new career, or create your ideal park without money woes in sandbox mode. Satisfy your guests' needs and keep your park running smoothly to succeed.
Get Ready to get "Soaked!" and Venture into the "Wild!" – This complete edition includes all content from both "Soaked!" and "Wild!" expansion packs. Relish the added challenge of creating and managing exhilarating waterparks and spectacular animal habitats.
Enhanced for PC – Play RollerCoaster Tycoon 3 in widescreen for the first time with full 1080p resolution and increased compatibility for new PC hardware.
Ride the Rides – Ride your creations with RollerCoaster Tycoon 3's signature coaster cam.
Packed Full of Content – You're free to fill your bustling park with more than 300 coasters and rides, 500 scenery pieces, 60 shops and services, and 20 animals to rear and raise.
Peep Designer – Create your own guests and experience your creations through their eyes
MixMaster – Wow your visitors with custom laser light and firework displays to delight and dazzle.