Deep Silver en Volition maken vandaag bekend dat Santo Ileso groter en beter wordt met drie robuuste releases die de komende maanden beschikbaar komen voor Expansion Pass-bezitters. Daarnaast krijgen alle spelers twee gratis nieuwe districten, drie quality of life-updates en een door Dead Island 2 geïnspireerd cosmetics-pakket.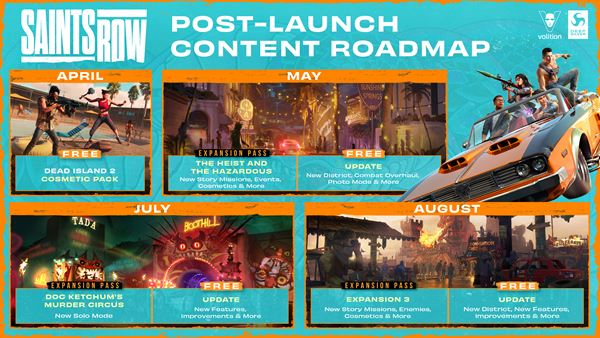 De stroom nieuwe content begint op 11 april met het gratis Dead Island 2 Pack. HELL-A smelt samen met het Weird West in deze gratis content die is geïnspireerd door Deep Silvers komende zombie slay-'em up. Spelers kunnen hun baas aankleden met items van de roekeloze antiheld Jacob of bijdehante atleet Amy. Ook kunnen ze schokkende aanvallen uitvoeren met een nieuw wapen, indruk maken met een nieuwe emote, en een zomers sfeertje scheppen met een iconische roze flamingo-hoed en Carver the Shark-standbeeld voor hun hoofdkwartier.
De volgende gratis update verschijnt in mei en levert Sunshine Springs, een gloednieuw district dat wordt toegevoegd aan Santo Ileso, samen met een schat aan quality of life-veranderingen (zoals aangepaste gevechten, een selfie-mode en meer) en verbeteringen. Op dezelfde dag krijgen Expansion Pass-bezitters The Heist & The Hazardous, drie nieuwe verhaalmissies die spelen in Sunshine Springs, waar de Saints een ambitieuze roofoverval plannen om te wreken dat ze zijn opgelicht door een beroemde acteur…
De tweede Expansion Pass verschijnt in juli en is getiteld Doc Ketchum's Murder Circus, een nieuw solo-avontuur waarvan we de strekking nog even geheim houden. Daarnaast worden meer quality of life-upgrades en nieuwe features toegevoegd.
Tenslotte verschijnt in augustus het derde, laatste en grootste pakket voor de Expansion Pass. Houd onze social media-kanalen in de gaten voor nieuws hierover. In augustus verschijnen ook het tweede nieuwe gebied en meer quality of life-updates, gratis voor alle spelers.