De aanstaande release van Call of Duty®: Modern Warfare® III nadert snel de pc-lanceerdatum van 10 november op Battle.net en Steam. In samenwerking met Sledgehammer Games heeft Call of Duty pc-ontwikkelaar Beenox ervoor gezorgd dat spelers de beschikking hebben over meer dan 500 aanpassingsopties, met ondersteuning voor 4K-graphics en Ultrawide en een enorm aantal opties voor allerlei instellingen. We zijn ook enthousiast om een aantal van de hoogtepunten te delen die naar de pc-versie van de game komen.
Zie hieronder de pc-trailer voor Call of Duty: Modern Warfare III:
Pc preloaden – Campaign Early Access en officiële lanceringstijden
Spelers die Modern Warfare III digitaal voor de pc hebben gekocht, kunnen de game bij de lancering preloaden. De preload is ook beschikbaar voor Campaign Early Access.
Preloaden voor Campaign Early Access op pc begint op 1 november om 17:00 uur, terwijl Early Access live gaat op 2 november om 18:00 uur. Modern Warfare III is een direct vervolg op Call of Duty: Modern Warfare II. Speel tot een volle week voor de lancering en ervaar hoe Captain Price en Task Force 141 het opnemen tegen de ultieme bedreiging, Vladimir Makarov.
Het preloaden voor de officiële lancering van de game, inclusief Multiplayer en Zombies, begint op 8 november om 17:00 uur, waarna de volledige titel live gaat op 10 november om 17:00 uur. Kijk op de lanceerkaart voor de lanceringstijden in jouw regio!
Officiële pc-systeemvereisten
Om er zeker van te zijn dat jouw pc de juiste specificaties heeft om Modern Warfare III te kunnen draaien, vind je hieronder een overzicht met de officiële pc-systeemvereisten.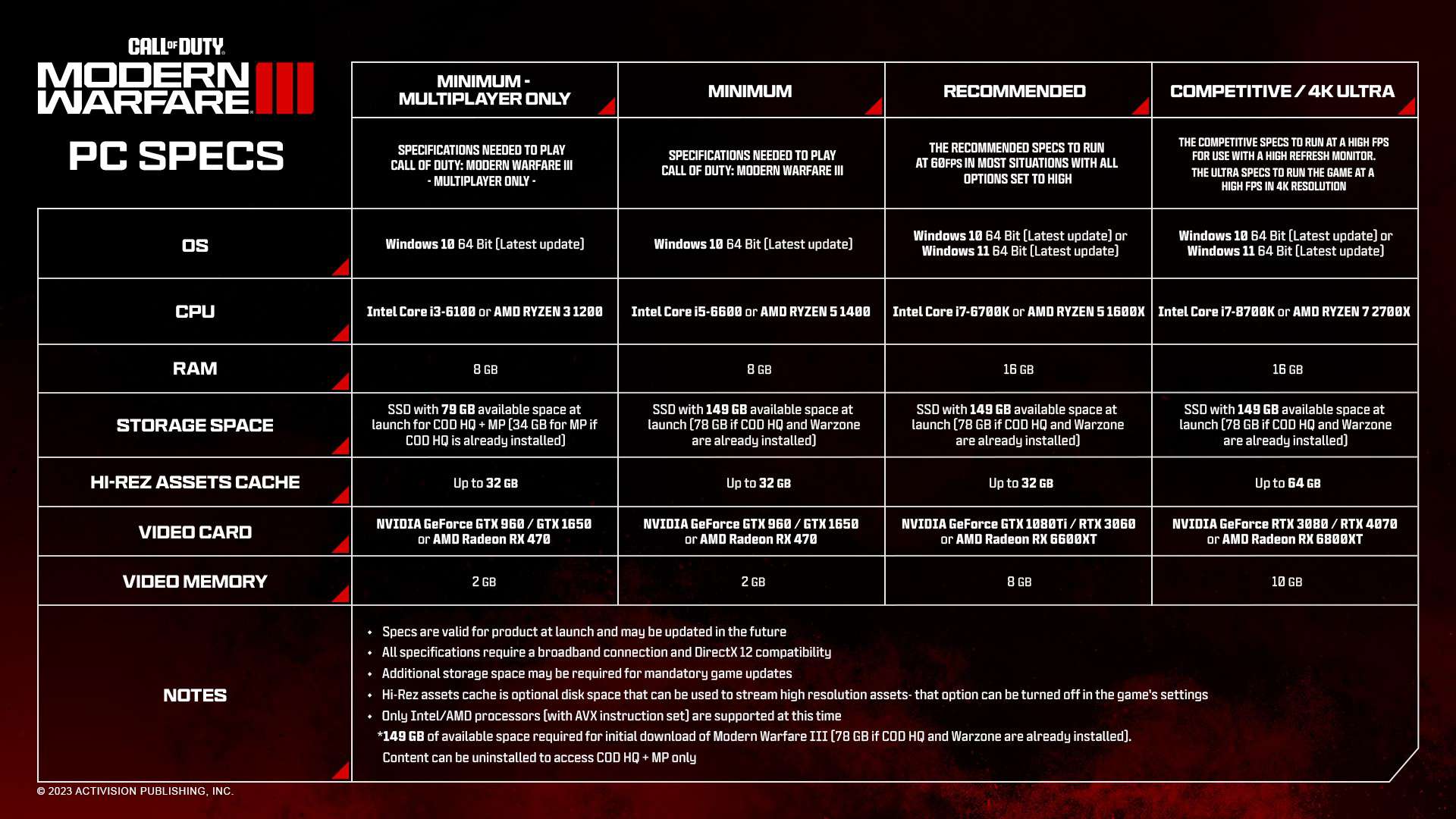 Koop vandaag nog voor op pc
Koop nu Modern Warfare III en ontvang direct beloningen zoals het Soap Operator Pack en de Zombie Ghost Operator Skin, verkrijgbaar in Call of Duty: Warzone en Modern Warfare II en voor Modern Warfare III later in november. Upgrade naar de Vault Edition om het Nemesis Operator Pack en twee FATE Weapon Vaults vrij te spelen bij de lancering, plus één Modern Warfare III seizoen BlackCell, inclusief de Battle Pass, 50 Battle Token Tier Skips, een BlackCell Sector met een 1.100 CP Bonus en meer, evenals de Soul Harvester Tracer Weapon Blueprint, die direct beschikbaar is in Call of Duty: Warzone en Modern Warfare II en Modern Warfare III bij de lancering.
Bekijk de pc reveal blogpost voor meer details: callofduty.com/blog/2023/10/call-of-duty-modern-warfare-III-specs-preloading-pc-trailer