Bereid je loadouts voor en maak je klaar om opnieuw te redeployen – Season 02 Reloaded, de tussentijdse seizoensupdate voor Call of Duty: Warzone 2.0 en Call of Duty: Modern Warfare II is nu beschikbaar.
Na de lanceringsupdate van Season 02 – met een gloednieuwe Resurgence map op Ashika Island, het Path of the Ronin-evenement en tal van updates in beide games – wordt Season 02 Reloaded aangevuld met een gloednieuwe Core Multiplayer map, een Camo Challenge-evenement, een nieuw wapen en nog veel meer gratis content in beide games. Bovendien zal de Store regelmatig worden aangevuld met nieuwe Bundles, waaronder een topaanbieding met een Bundle die wat Shamrock & Awe geeft voor een update voor Al Mazrah die maar een beperkte tijd duurt.
Speel GRATIS de multiplayer van Call of Duty: Modern Warfare II tussen 16 en 20 maart. Ga naar de nieuwe Season 02 Reloaded Multiplayer Map "Himmelmatt Expo" en andere locaties, plus krijg toegang tot Special Ops Raid Episode 01. Lees de volledige blogpost over de gratis multiplayer voor alle informatie!
Hieronder vind je een kort overzicht van alle nieuwe content: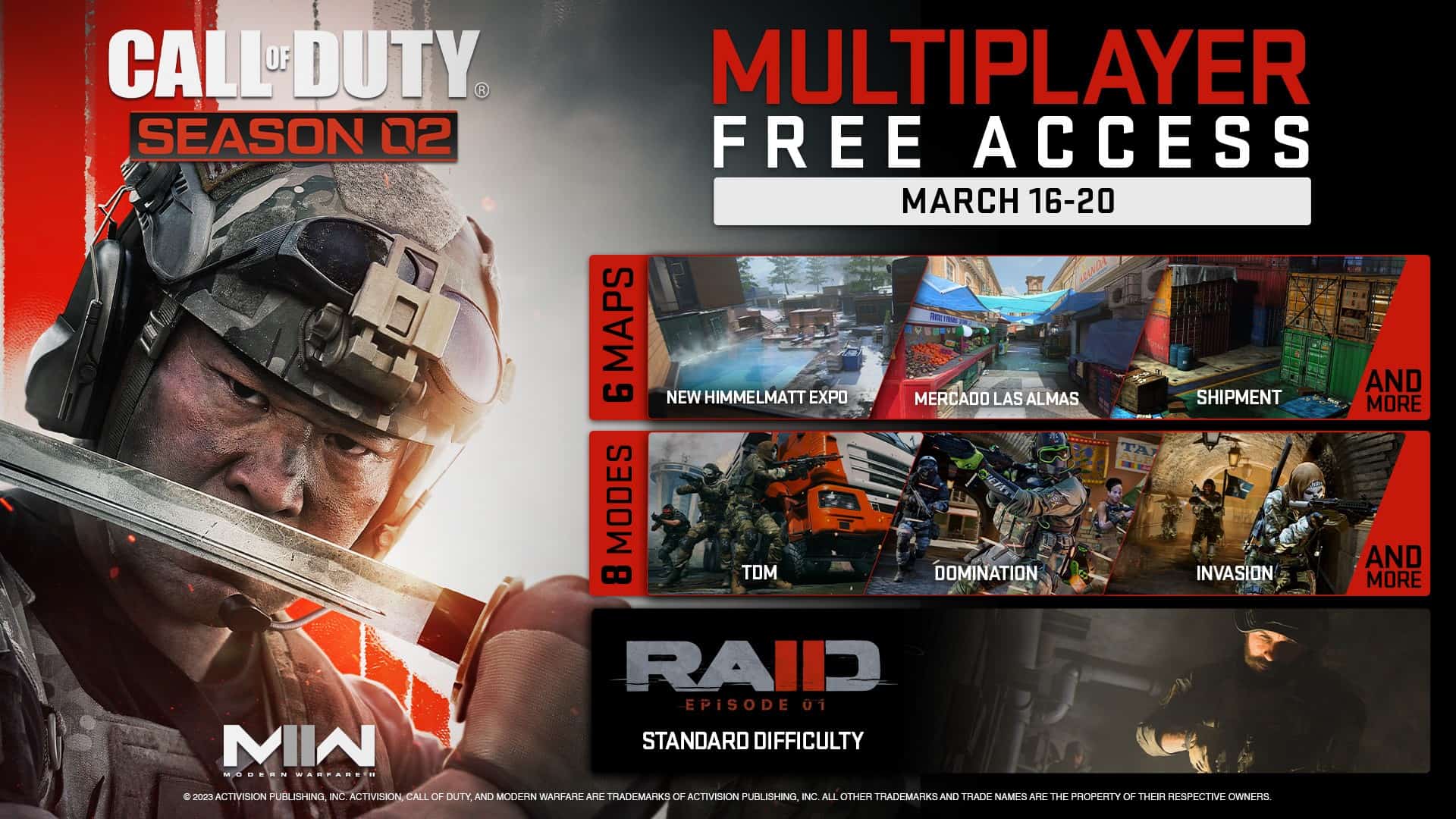 Raid Episode 02. Kruip in de huid van Captain Price, Farah en Gaz terwijl ze door Atomgrad trekken op zoek naar een dodelijke kernkop.
Himmelmatt Expo is toegevoegd aan de Multiplayer Map Rotation. Ga naar een schilderachtig winterverblijf in een exclusief bergresort in deze nieuwe Core Multiplayer map.
Vier de derde verjaardag van Warzone! Vier de derde verjaardag van de release in maart 2020 van het originele Call of Duty: Warzone met gratis gifts die om de paar dagen in de Store verschijnen.
Verdien Seizoen 02 Camos. Ga verder op de Path of the Ronin met extra uitdagingen die toegang geven tot een nieuwe eventcamo voor elke wapenklasse.
Nieuw wapen. Richt met de nieuwe Tempus Torrent Marksman Rifle.
Voor fans die zijn opgegroeid met de Turtles. Wat gebeurt er als Shredder van de Teenage Mutant Ninja Turtles in Call of Duty wordt gebracht? Hij stopt zeker niet na 22 minuten strijd op tv. Koop deze iconische schurk in een nieuwe Tracer Pack Operator Bundle en speel zijn ninjutsu-krachten vrij.